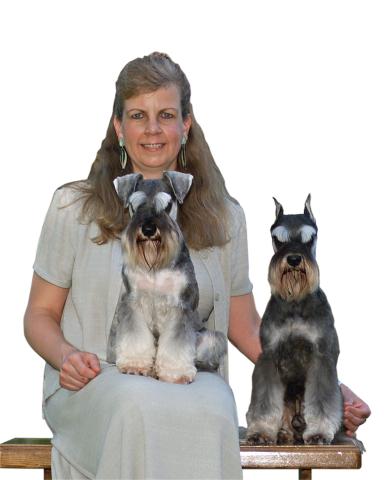 Silvercastle Wesley Princess or Maxie to her many friends and admirers.  Born on July 4, 2003, she is the first daughter of Courtney, and has her mother's sweet looks and personality.  One of Maxie's most endearing qualities is her friendliness and acceptance of everybody she meets, both two-legged and four-legged.  Her best canine friend is a senior Akita, who always rises from his porch with a big smile to visit with Maxie.  Maxie is the second mini schnauzers who has owned our family, the first being a lovely boy Mike who was with us for nearly fifteen and a half years.  Maxie shares with Mike common Schnauzer traits, such as love of their humans, intelligence, sensitivity and a natural instinct as a barking guard dog.
The Mini Schnauzer truly is the "big dog
in a little dog suit".
Maxie is loved by the Martinuk family.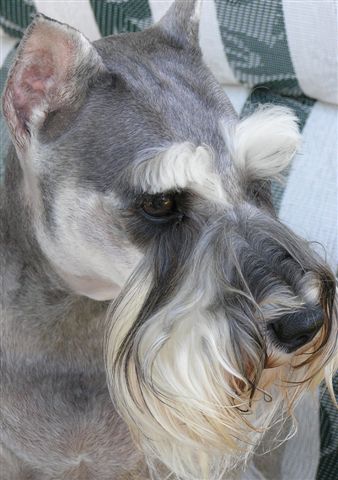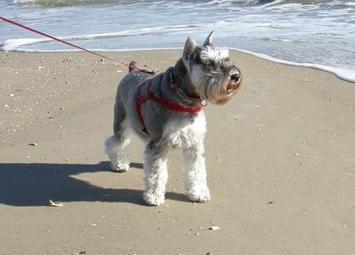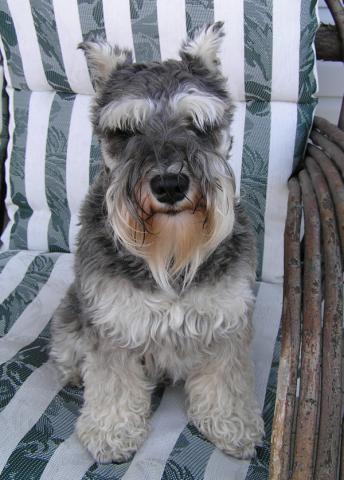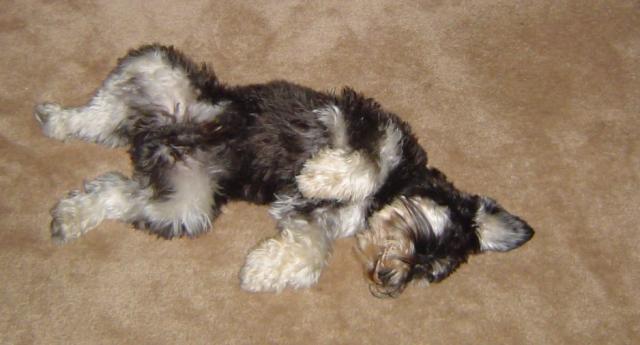 We are thoroughly enjoying "Kodi".  Kodi was born on Oct. 25, 2006, the first of six puppies of Olivia and Jacob.  He is a great family dog.   Everyone loves him.  He's easy to train, fun to play with and loves to spend time with the family.  Here's a list of what makes him special:
-  he loves to lie on his back (as you can see from the photo) and have his belly rubbed)
-  he loves long car rides, he's so quiet and content, you hardly know he's there!
-  he has quickly learned tricks like:  sit, down, roll over, paw, wave, fetch
-  he's now starting to excel in obedience and go for walks on a loose leash and promptly comes back when called
(of course, a tasty liver treat goes a long way to ensure he learns quickly!)
We often have a house full of kids running in and out and he loves being a part of the action.  He's a great size for city living, doesn't take up a lot of room and most of all, he doesn't even shed!  In addition to that, the kitchen floor has never been cleaner because he quickly cleans up every crumb!  We couldn't have made a better choice for our family.  Tracey, thanks very much for all your ongoing support and interest in Kodi! 
Kodi is loved by the Higgins-Nicholls family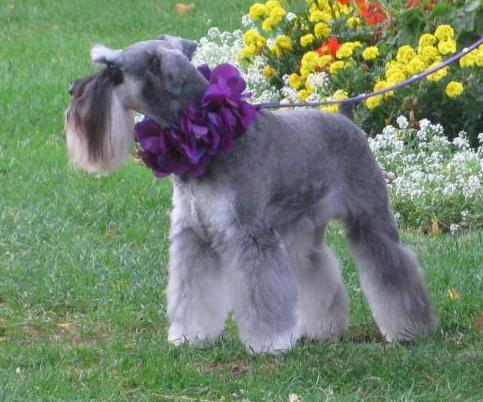 Silvercastle Olivia's Shoe "Prada" - daughter of Olivia and Jacob.  Some of Prada's favourite things:
- going to the spa . . . for the day!!!
- going to Nana and Papa's to play with her cousin (really going anywhere is perfect for her!)
- playing in her backyard with her Daddy!
Prada was my perfectly groomed flower girl (thanks to Tracey). I could not have had Prada that beautiful that day without her!  Prada, our pride and joy, she is the glue that holds everything together . . . so strange that one little Schnauzer has that much power. Prada never wants to be left behind, and has worked hard at perfecting her manners so that she is invited and welcomed into many of our friends and families homes.  Prada is loved by the Simpson family.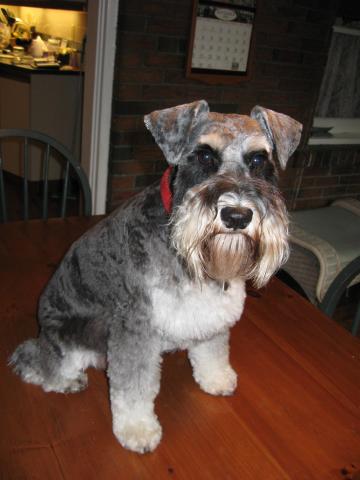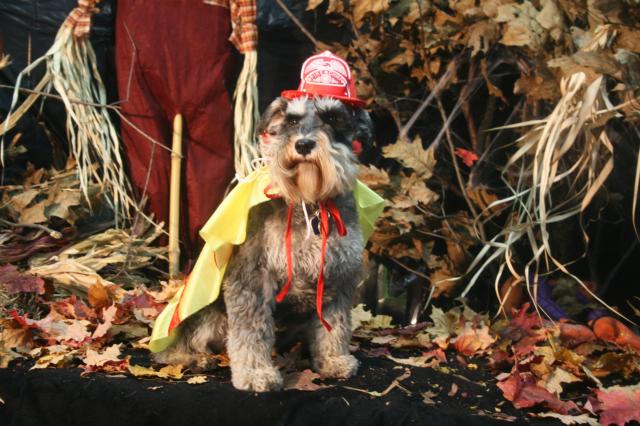 Silvercastle Tucker The Great "Tucker", a lovely boy out of Jacob and Olivia.  From puppyhood to adulthood, Tucker is a wonderful dog! He loves to chase balls and squirrels (just like his Daddy Jacob!). He wants to be wherever we are.  Tucker loves to ride in the car. The off-leash park is his favourite place to go. He is very social with other dogs - the bigger, the better. 
Tucker visits at a Seniors' residence and is very gentle with the elderly. We have been so happy with Tucker these past few years.
Thank you Tracey for enriching our lives with this lovable pet. We can't imagine life without Tucker!  Tucker is loved by the Hogarth family.
Silvercastle Rockafeller Dream "Rocky" born in October of 2006. Rocky is doing fantastic. He still acts like a little puppy most of the time!
He's best buddies with our two boys. When our first little guy was first learning to crawl, we kept trying to coax him to crawl to us. But the first person he ever crawled to was Rocky! And he was calling Rocky "Rrrrrrr" (and patting his legs for him to come) before he ever said Daddy or Mommy!
We're sooooo happy that we have such a lovely dog and for our children to have Rocky as a friend.  So we're a little obsessed with our furry little guy . . . Mr. Rockafeller (aka Rocky) is loved by the Leach family.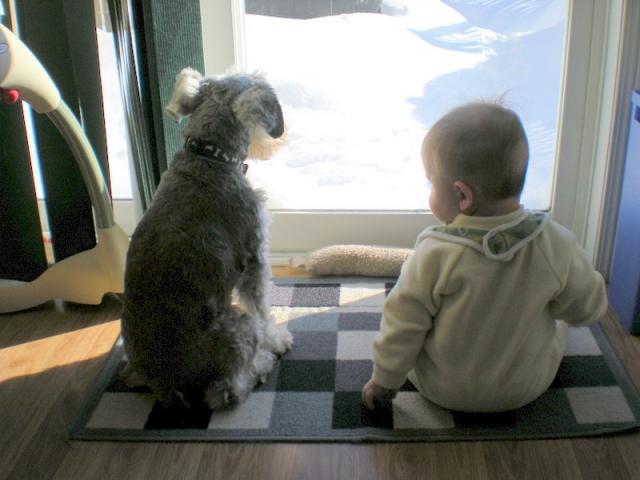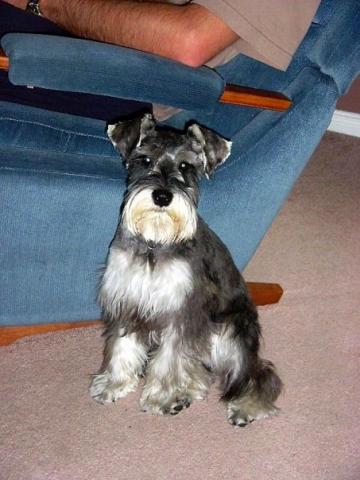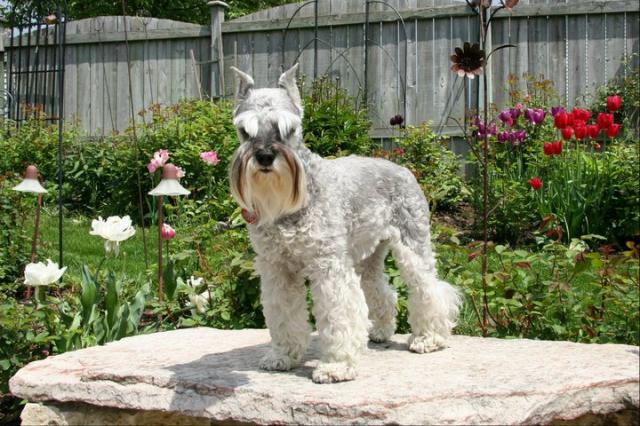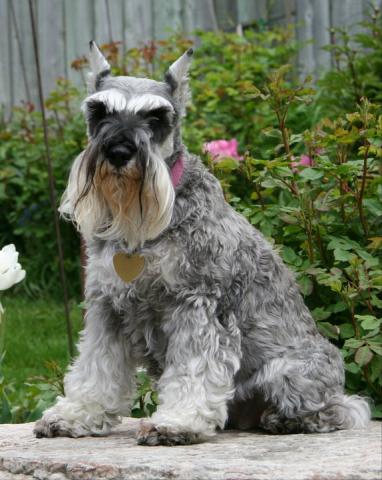 SILVERCASTLE
Miniature Schnauzers
Boarding, Grooming, Training,
Rescue & Adoption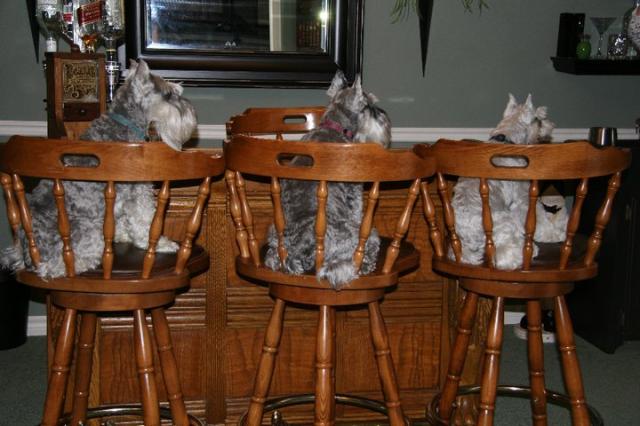 We have been clients of Silvercastle for many many years now!  We have purchased over time our 6 Schnauzers from Silvercastle.  They have been just gorgeous dogs and then each of them have always been groomed by the breeder. The dogs are groomed as if they were going into the show ring, we have received many a compliment!  Just recently Silvercastle moved to the new location - wonderful spot . . .  
In Oct we were away for a weekend and boarded our dogs with Silvercastle.  The "girls" just had a blast - they ran and ran and played and played in the huge enclosed fenced in yard.  When we returned to pick them up, well yes they were glad to see us, but were in no hurry to leave - they were having too much fun!  We have already made reservations to board our dogs again this Nov.  You can count on your dogs being so well looked after, it is such a nice feeling to know that they are safe and sound being well taken care of and having a great time!  After all, our "girls" are just like our kids! Loved by the Brooks family